Chips and Technologies (C&T or CHIPS) was a little-known company found in California in 1984. The company first developed one of the first EGA video chipset and some system logic chip sets for IBM's PC-XT and PC-AT. In September 1991, C&T announced its very first and only x86-compatible CPU: an Intel 386 compatible chip named the "Super386". It used clean-room implementation process (basically reverse engineering) but Intel sued them almost immediately for patent infringement. Being unable to fight against Chipzilla on a costly trial, the case was settled in 1993, making the Super386 a very short-lived CPU only produced in few quantities in 1992. Later, C&T refocused on laptop graphic chips and was ultimately acquired by Intel in 1997.
Here are the x86-related products from C&T announced in 1991:
J38600DX – A PGA CPU pin-compatible with the Intel 386DX at 20, 25, 33 and 40 MHz at $157, $157, $195 and $206. Only the 25 MHz and 33 MHz parts seem to have reached the marked.
J38600SX – A 386SX pin-compatible CPU announced in 16MHz, 20MHz and 25MHz versions at $59, $88 and $92 in volume quantities. No retail nor prototypes part ever surfaced.
J38605SX/DX – A more advanced 386 with 0.5 KB cache and an innovative feature called SuperState V. Not pin-compatible with Intel 386. Never released but a couple prototypes are known.
J38700SX/DX – A 387 math co-processor, by far the more "common" chip of them all. Available in PGA (DX) and QFP (SX) versions at speed ranging from 16 MHz to 40 MHz. Pin compatible with their Intel counterparts.
The Super386 (J38600DX) being the only x86 CPU from Chips and Technologies that reached the stores (albeit in very small quantities), it had to be supported by the UCA!  I was able to finally find one and add support on the UCA!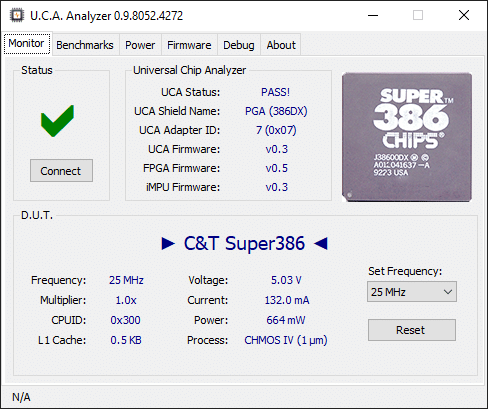 Running at 25 MHz with a much lower power consumption than the first 386s, the C&T Super386 identifies itself with CPUID 0x300. The same CPUID was used for very early (and very rare) A-Step Intel 386. To distinguish them, you must check for the undocumented 0x0F, 0x18 instruction, only available on the C&T Super386.
I'll publish some benchmarks tomorrow.
More interesting information about the C&T Super386 can be found here: