Another milestone has been reached. A new iconic CPU family is now supported by the UCA: the Intel 80386, the very first 32-bit x86 microprocessor! The i386 was originally released in 1985 at 12.5 MHz and 16 MHz. It added a 3-stage instruction pipeline and an on-chip MMU (Memory Management Unit) able to address up to 4 GB of RAM. A giant capacity for that time. The original Intel 386 – then renamed 386DX – comes in a PGA132 package and its frequency was later upgraded to 20 MHz, 25 MHz and finally 33 MHz. Later clones from AMD & Cyrix – not yet supported by the UCA – were also released at frequencies up to 40 MHz.
The design of the UCA 386 Adapter was challenging because of the high frequencies involved. While all 486s work with a standard clock input, 386s require a clock-doubled signal with a strong voltage swing (CMOS) between 0 and +5V. Generating frequencies up to 80 MHz (for a 386DX-40) with these requirement was not possible with the UCA architecture, so the UCA 386 Adapter includes an external clock-doubling PLL. For the first try, I used a NB3N511 clock multiplier from On Semiconductor but I was unable to reliably run 386s at more than 20 MHz. The UCA is based on a FPGA and timings are crucial.  With the NB3N511, I was unable to successfully match timings because of the lack of phase synchronization between the input clock generated by the FPGA and the doubled frequency fed to the CPU. So I needed another PLL, with 0-delay between input and output.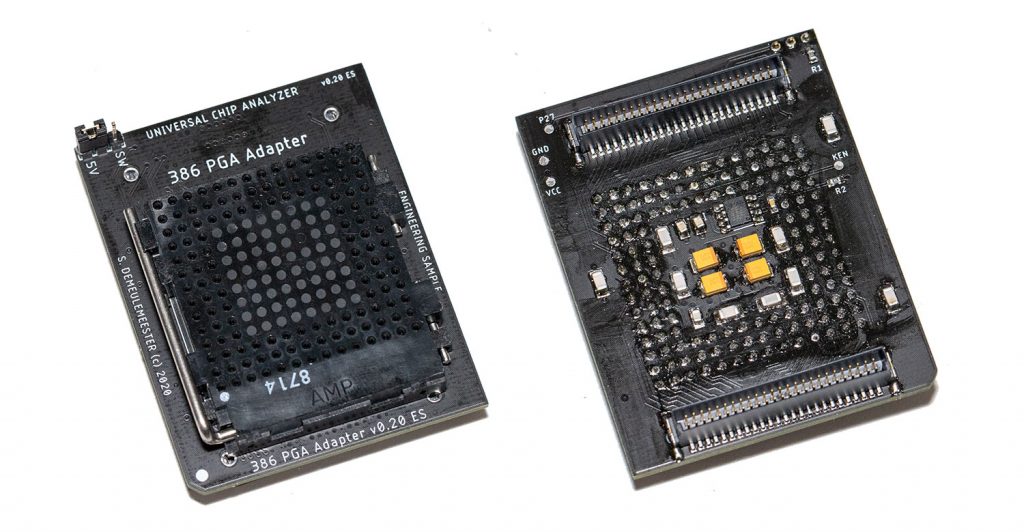 After some research, I gave the ICS570A a try and it worked perfectly fine. I was able to sync the internal FPGA logic to the clock-doubled CPU signal up to 40/80 MHz, without having direct access to that signal. Some high-quality ceramic decoupling caps were also mandatory to achieve the highest frequencies. I had a bad surprise while looking at ZIF socket for the 386 Adapter: for some reasons, PGA132 ZIF Socket are extremely expensive and I was unable to source them at a decent price. I bought some at ~$25 each, but if you can help me find more at a lower price, please drop me an email!
The 4 standard test frequencies for 386 are set to 12.5 MHz, 25 MHz, 33 MHz and 40 MHz. Right now, only Intel 386 are supported, but I'm working on AMD, Cyrix, etc. clones and I'm confident the UCA will support them all very soon. Here are the i386 I have for testing: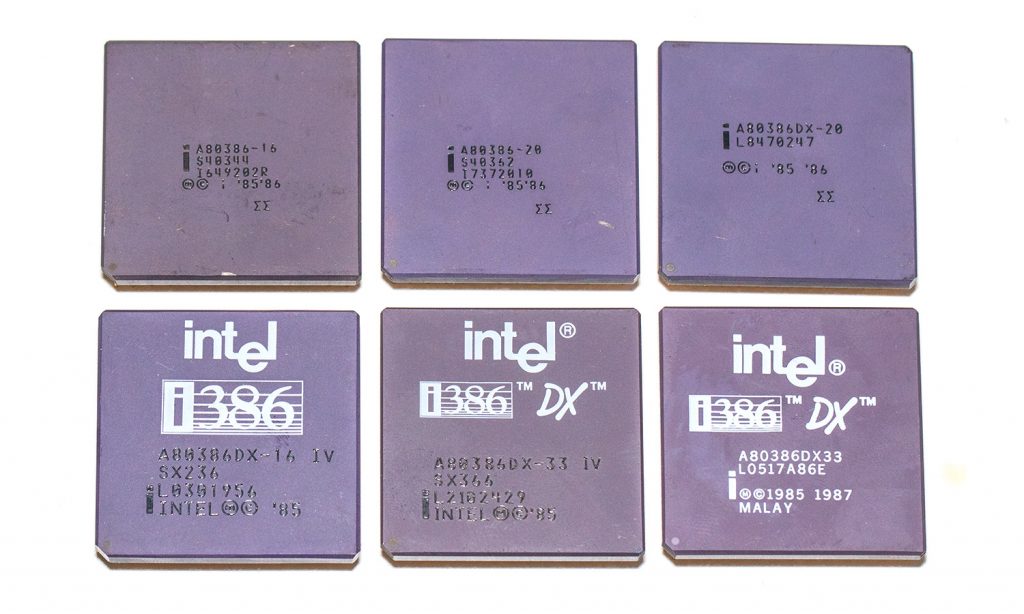 The first one is an early 386 clocked at 16 MHz and produced in 1986. The ΣΣ sign engraved shows that it has been tested free of the infamous 32-bit multiplier bug (more on this on a later post). According to this source, the S40344 S-Spec is a B1 stepping. This is confirmed by the CPUID displayed by the UCA Analyzer tool: 0x303. At 12.5 MHz, this CPU requires about 188 mA at 5V (a bit less than 1W).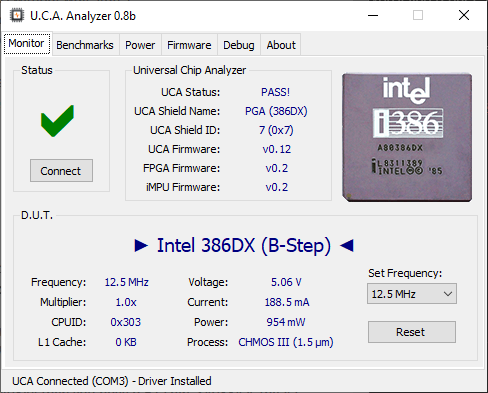 The second one is very similar to the first one, except the rated speed at 20 MHz. Still the same B1-Stepping, same CPUID, same ΣΣ, same power consumption, same everything. It also can't be overclocked at 25 MHz.
.
The third one is also rated at 20 MHz but don't have any S-Spec. It has been assembled in November 1988, more than one year after the previous one. The CPUID is different at 0x305, which indicates a D0 stepping. Surprisingly, the power consumption is 10% higher, at ~212 mA for 5V at 12.5 MHz. Maybe Intel added some logic to solve the numerous erratas in previous stepping, maybe it's just sample variation. Anyway, the D0 stepping still uses the CHMOS III (1.5 µm) process. This chip can be overclocked at 25 MHz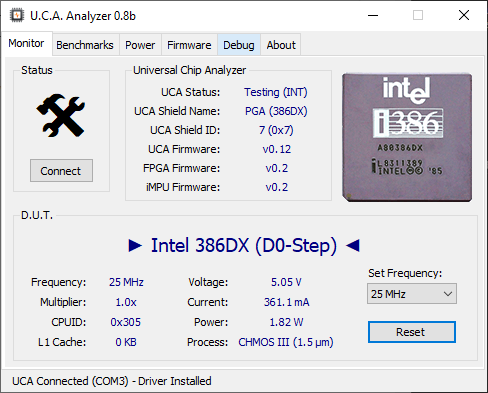 The fourth one is a 16 MHz marked SX236 and build with the more advanced CHMOS IV process. The CPUID is 0x308, which is used by Intel for D1, D2 and E Stepping. The last stepping is usually marked on the chip, so we can guess it's a D1 or D2 stepping. Power consumption drops from 212 mA to 147 mA, thanks to the 1 µm process (instead of 1.5 µm). Unfortunately, it can't work at 25 MHz.
.
The fifth one is a A80386DX-33 made in 1992 with s-spec SX366. It's the faster clock speed Intel released for a 386DX. The CPUID is still set at 0x308 but the stepping is clearly more advanced: the power consumption drops to 126 mA while using the same CHMOS IV process than the previous one. This particular CPU requires 126 mA at 12.5 MHz, 206 mA at 25 MHz and up to 261 mA at 33 MHz. It can't be overclocked to 40 MHz.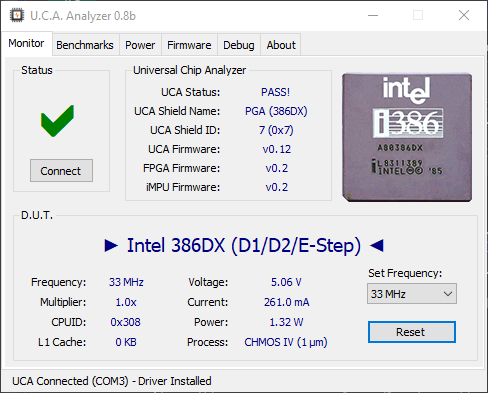 The last one is much newer than the others. It was manufactured in 2000 and uses the E-Stepping, as stated by the last letter of the lot code. Aside from this, all specs look identical to the SX366. Measures are also the same and it doesn't work at 40 MHz.
Stay tuned for more exciting news about the UCA!