The Universal Chip Analyzer is useful to test and spot counterfeits CPUs, but also to help identify CPUs without markings. The lack of printings on a CPU can be caused by a poor ink quality that gradually faded out over years, by abrasion with other ICs (common when you saved a nice CPU from a "scrap lot") or because it's an early engineering sample (prototype). Here are two examples.
Let's start with the first one.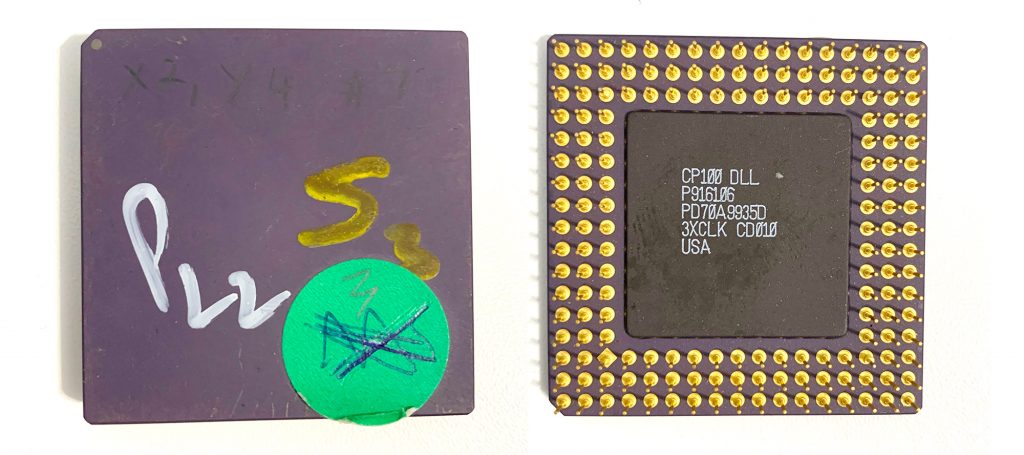 It's supposed to be an early engineering sample coming from ST Microelectronics. Hand-writing on top are "X2, Y4 #7", probably related to the coordinates of this particular die on the wafer (X=2 , Y=4) and the wafer number (#7), and also "PLL", which probably mean it was designed to test the integrated Phase-Lock Loop (clock multiplier). The back of the CPU shows that the PLL was configured for "3XCLK". So it's a DX4 class CPU. But it could also be a 5×86 ES. I have tested it on the UCA at 3.45V.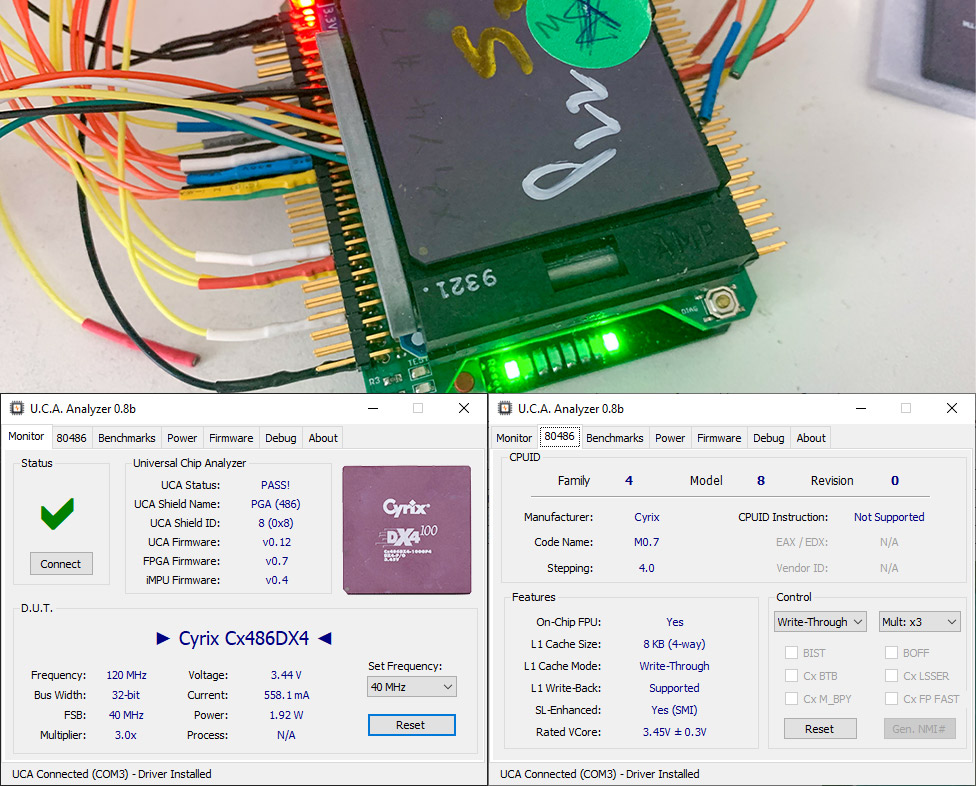 All 486s from ST are just rebranded Cyrix 486s and this one makes no exception. It identifies itself as a Cyrix Cx486DX4 (M0.7). The most interesting point is the stepping. I have one It's ST ST486 DX4-100 (you can see it here) and another Cyrix Cx486DX-100GP4. Both come with stepping 3.6. This sample uses stepping 4.0. I do not have any Cyrix 486s (or IBM or It's ST) with such a late stepping. I am not even sure this stepping finally reached the commercial status. This sample works perfectly fine at 120 MHz (3×40 MHz) with 3.45V while my Cyrix DX4-100 requires 3.6V to work at 120 MHz and the retail It's ST doesn't work at all when overclocked at 120 MHz.
At this point, I have no proof that this sample comes from TI and not directly from Cyrix. Anyway, it could be an engineering sample for a hypothetical Cx486DX4-120, that was finally canceled to avoid hurting 5×86 sales. Interesting.
Here is the other one.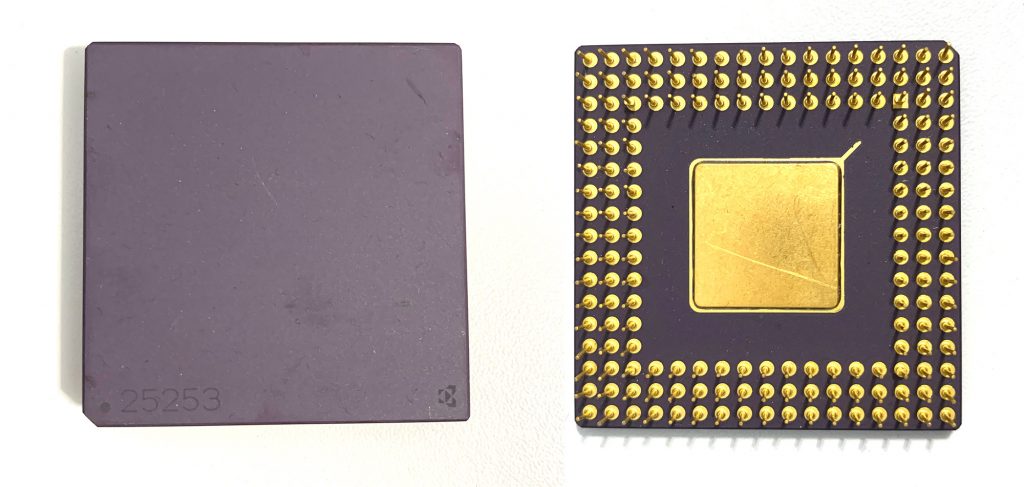 The package marking (25253) tell us it's an early AMD 486s assembled by Kyocera, but there is nothing more written on top or back of the chip. Package number is almost often used for 3.3V parts (while 5V parts from the same era come on the 25220 package). Time to plug it on the UC!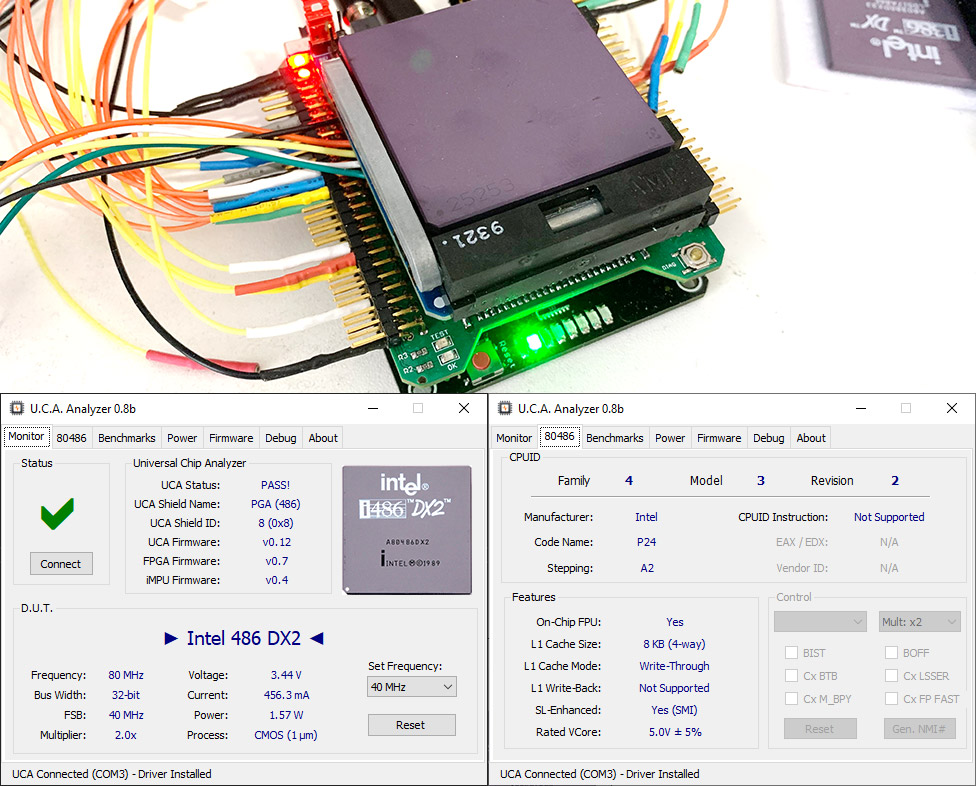 Early AMD 486s use the Intel 486 microcode, so they're virtually indistinguishable by software. I'm testing a very nice way to distinguish them but that's another story (I'm waiting for a new PCB and I'll tell you more if it works as expected). The CPUID have 8 KB of L1 write-through cache and the CPU doesn't support write-back, so it's a (N)V8T revision and not a later SV8B. It doesn't support 3x multiplier, so it's a DX2 and not a DX4. Testing various frequencies shows it can work fine at 40 MHz. This unmarked CPU is probably an Am486DX2-80 NV8T, or maybe an Am486DX2-66 NV8T with a good overclocking capability. Nothings suggest it's an engineering sample. Markings have probably faded over time (or have been removed due to mechanical action).